Molisse Realty Group Selling The Entire South Shore and Throughout Massachusetts
Find out whats happening with Molisse Realty Group, across the South Shore, and throughout Massachusetts. Follow Molisse Realty Group for advice on current market trends, real estate tips, local events, and more!
Brian Molisse Holds 5 Year Anniversary Celebration for Molisse Realty Group
Molisse Realty Group Agents and Staff gathered last night at the invitation of Brian Molisse for a 5 Year Anniversary Celebration!
The party took place at the Cask 'N Flagon in Marshfield where a private room had been booked. The food was delicious, the bar well stocked, and everyone had a tremendous time.
A gorgeous cake had been ordered from the Guilty Bakery and was customized with the company logo and a "For Sale" sign. Molisse was presented with a framed copy of the Agent Appreciation Ad that had run recently in the local papers along with a charitable donation.
To quote Brian directly "I want to thank you all that came to our party last night at the Cask & Flagon in Marshfield. It was so great seeing everyone, as I was looking around the room I could not believe how far we have come in 5 years.Thank you for trusting in me & believing in my vision & I promise many more awesome things ahead for Molisse Realty Group."
Thank You Brian from all of us at Molisse Realty Group!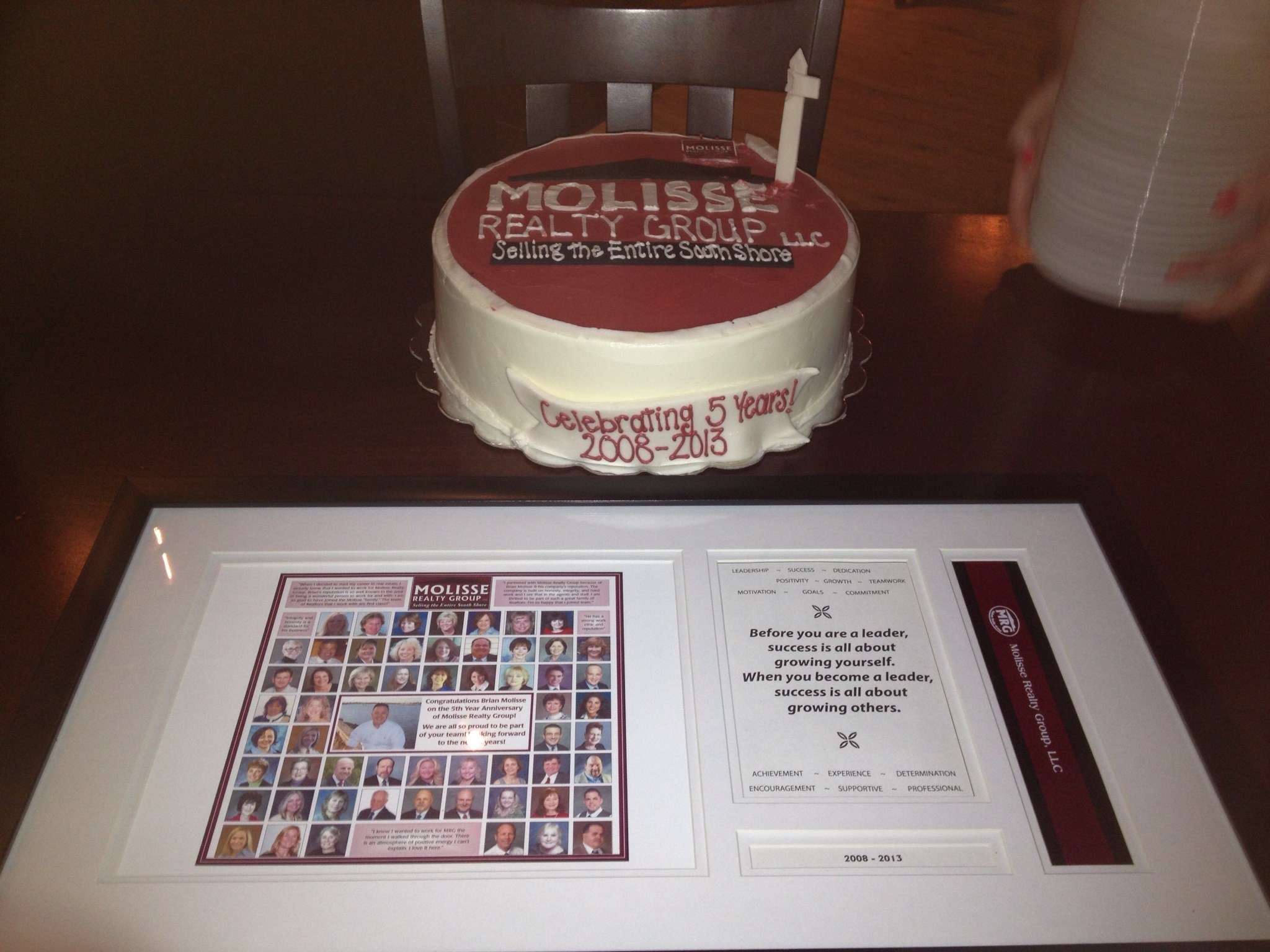 Molisse Realty Group Ad Preview
May 19th Weekend!
Highlighting Water View Homes
Local Mariner Newspapers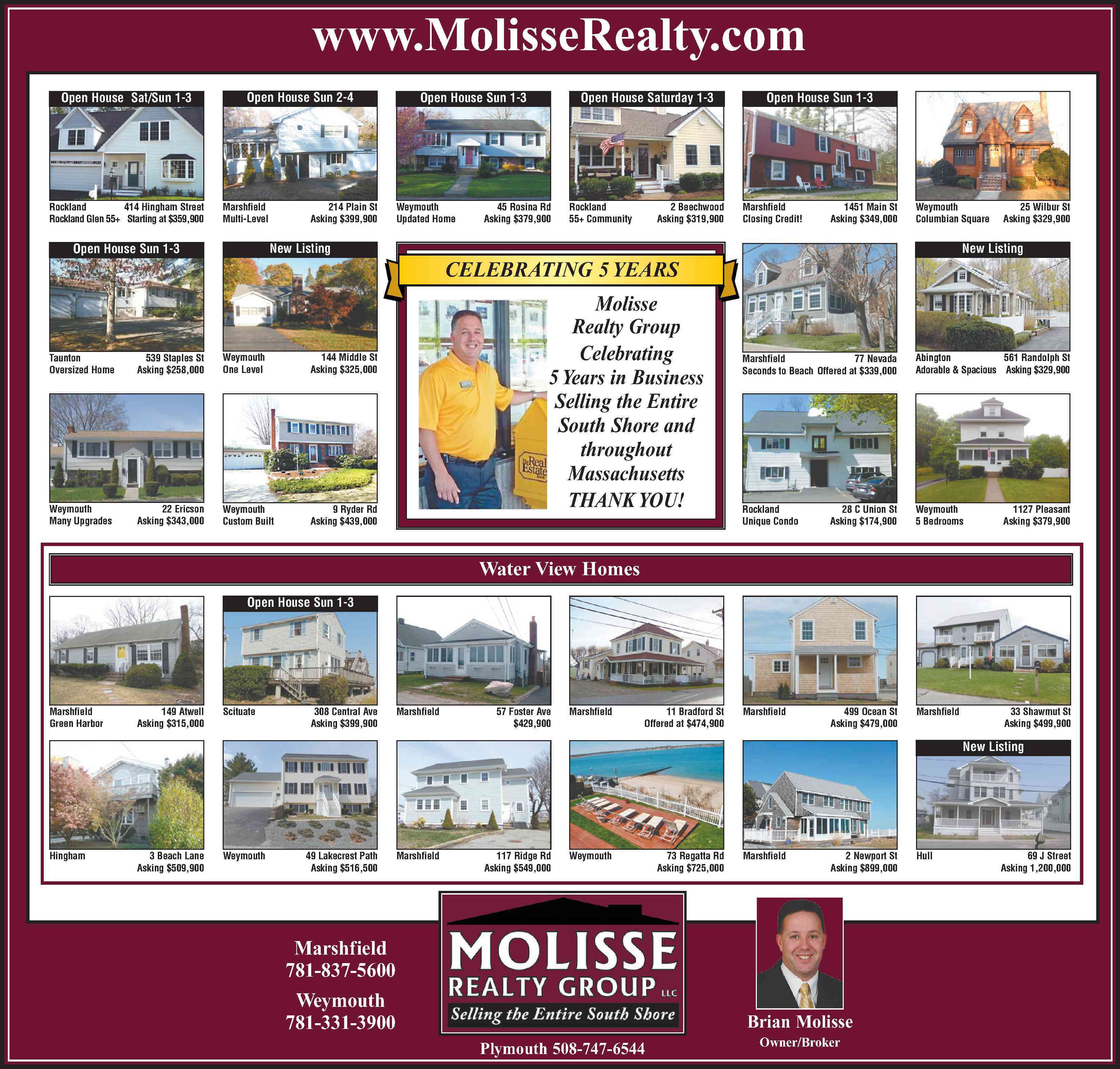 Cranberry Coast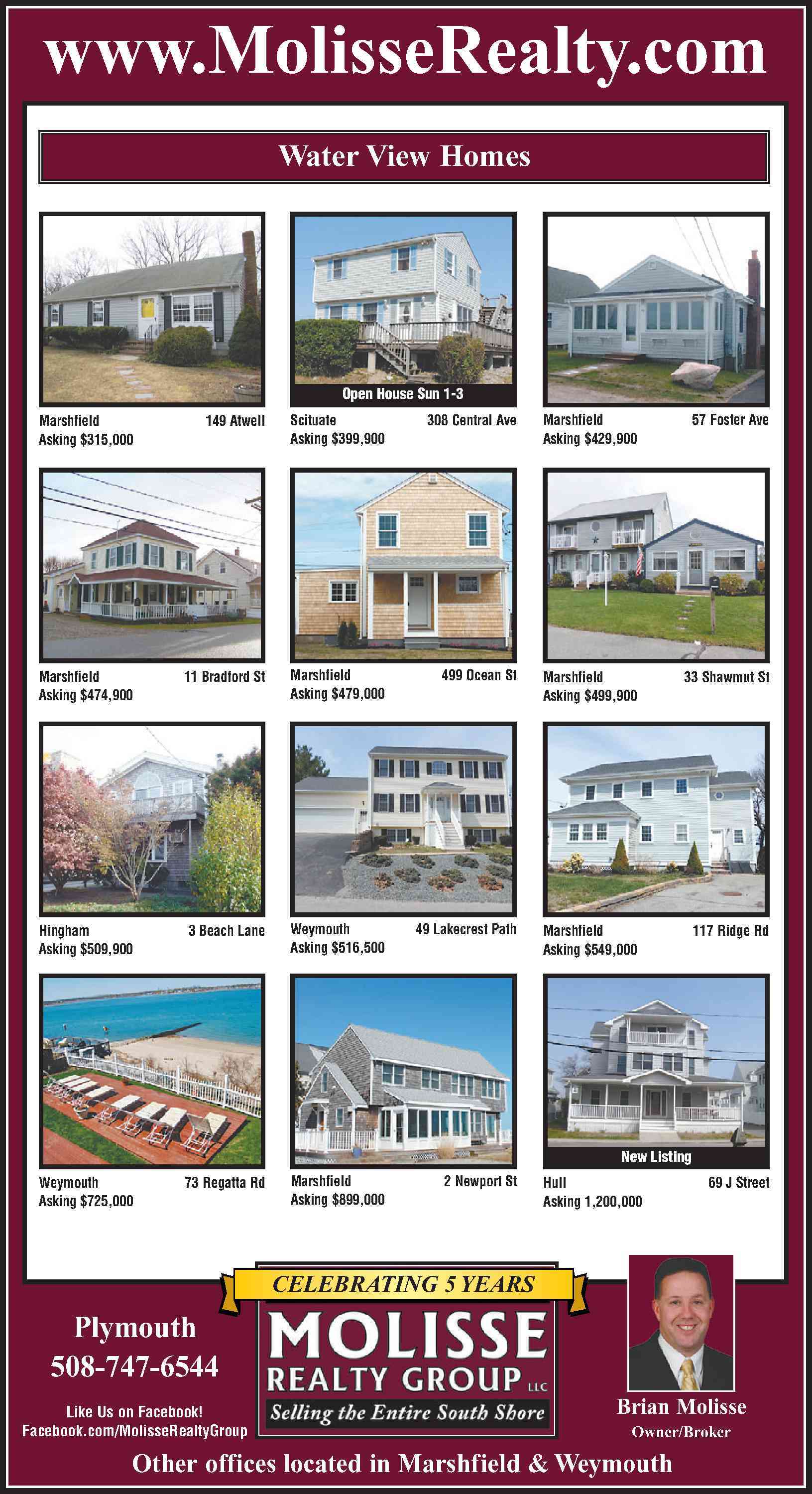 Contact Molisse Realty Group
In Weymouth: 781-331-3900
In Marshfield: 781-837-5600
Celebrating 5 Years!
Main Street Pizza, Deli, Subs & More To Open Soon At Former Caswells Location
The Commercial Division of Molisse Realty Group listed property in Weymouth formerly known as Caswells Seafood in late December of 2012 when the Caswell Family contacted Brian Molisse, Owner/Broker of the firm to represent them in the sale. Having grown up in Weymouth where Caswells Seafood restaurant was a well known landmark, Molisse welcomed the opportunity to handle the transaction on behalf of the long term owners.
When the commercial listing hit the market, resourceful real estate agent Connie Lovett knew this was a property she'd like to sell. Wasting no time, Lovett, who works with Molisse Realty Group in Weymouth, began contacting local business owners to see who might have interest in a property with great visibility on busy Rte 53.
Timing is everything, and as it turned out Michael J. Munichiello , owner of Main Street Pizza, Deli, Subs & More was considering options with a lease soon coming up for renewal. The site at Caswells was the ideal spot- directly across the street from where his business was currently located.
Some remodeling and expansion would make things work, and the former Caswells Seafood is in progress to become the new home of Main Street Pizza, Deli, Subs & More. The sale closed in February 2013, construction has been ongoing these past several months, and the restaurant is scheduled for opening this current May.
Celebrating 5 Years in Business!
Congratulations Brian Molisse
From All Your Agents and Staff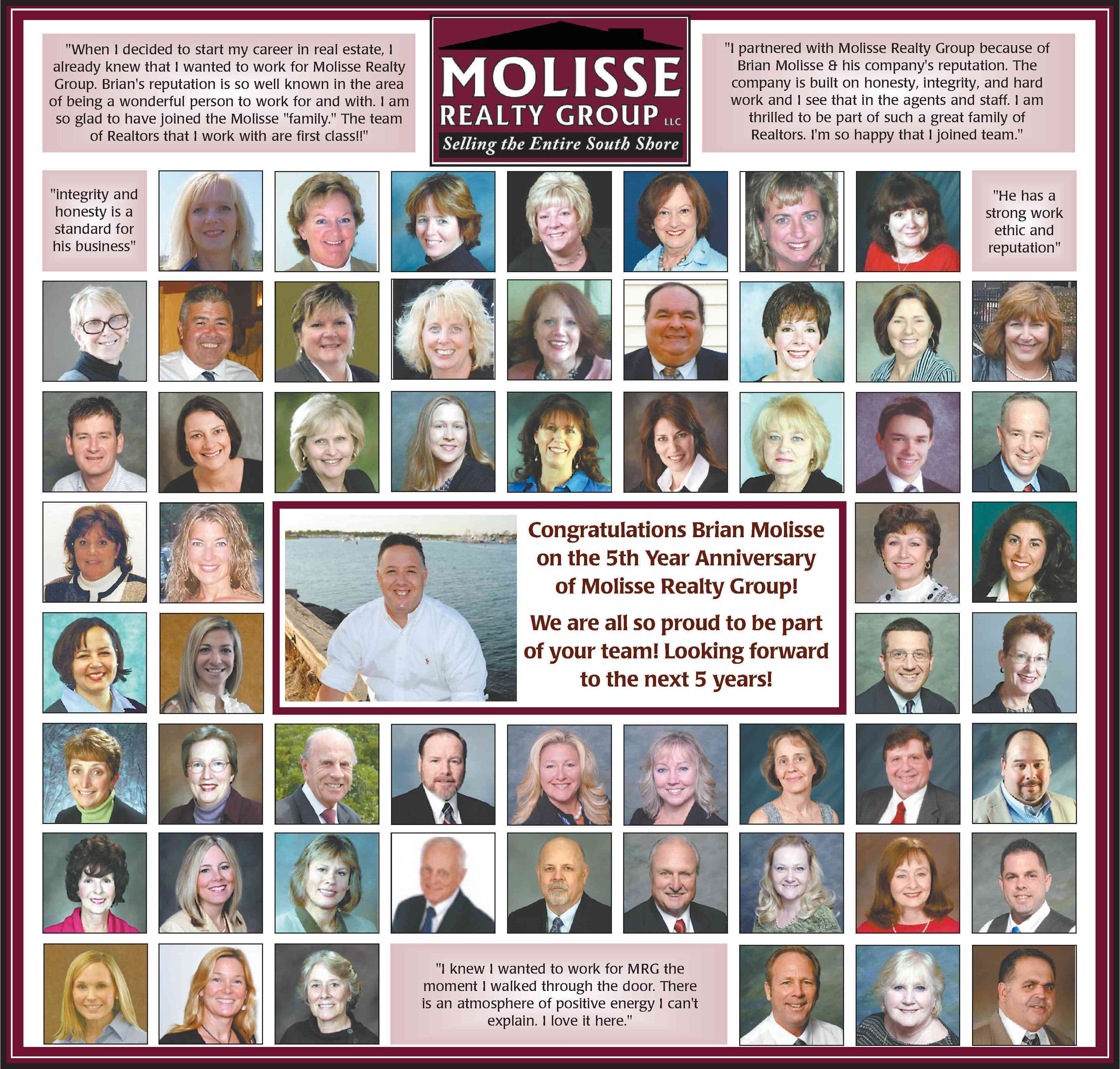 Sneak A Peek-Our Ad For This Week
In Your Local Newspaper!
In Print May 8th, 2013
Celebrating 5 Years!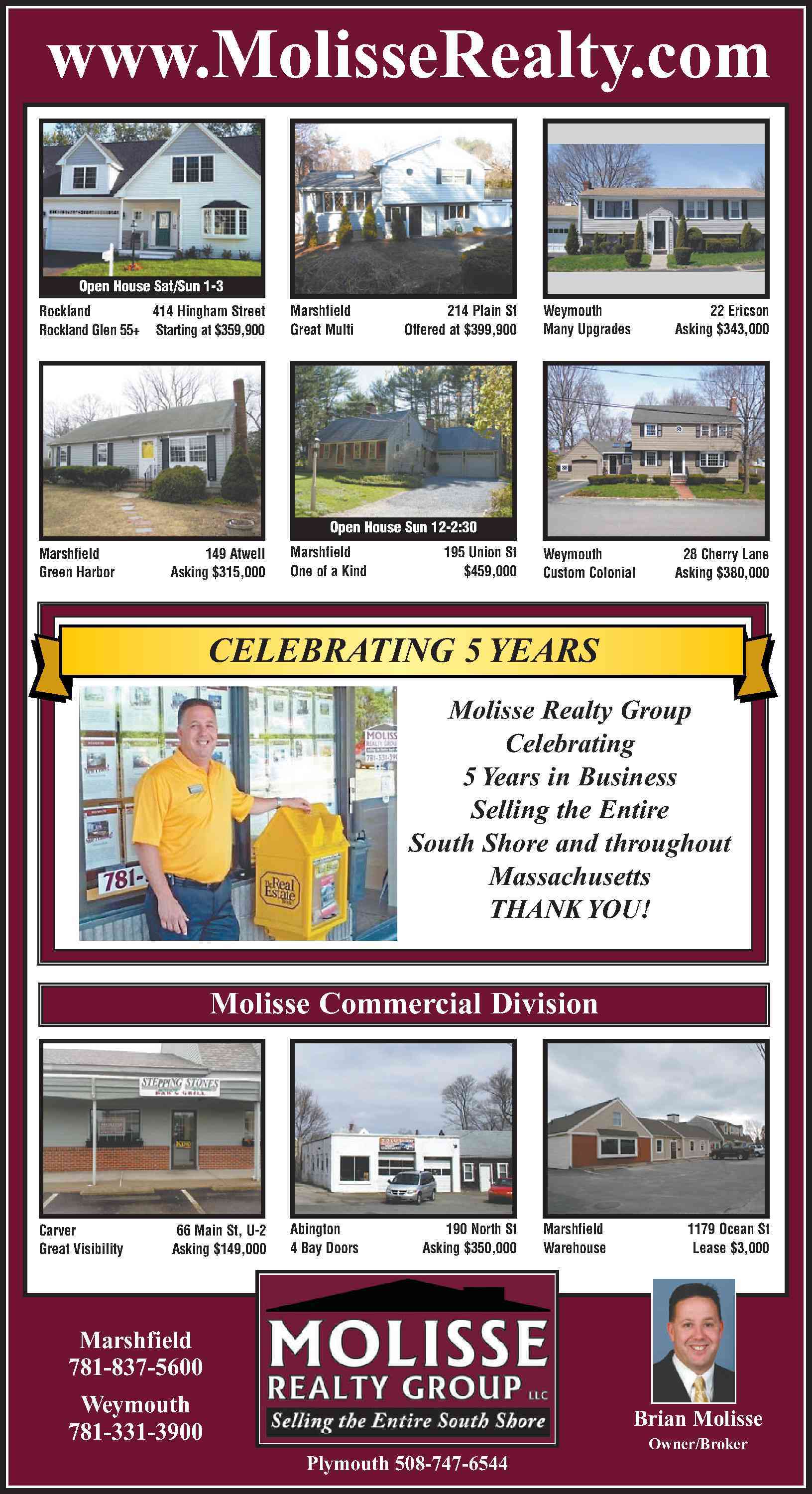 In Print May 9th, 2013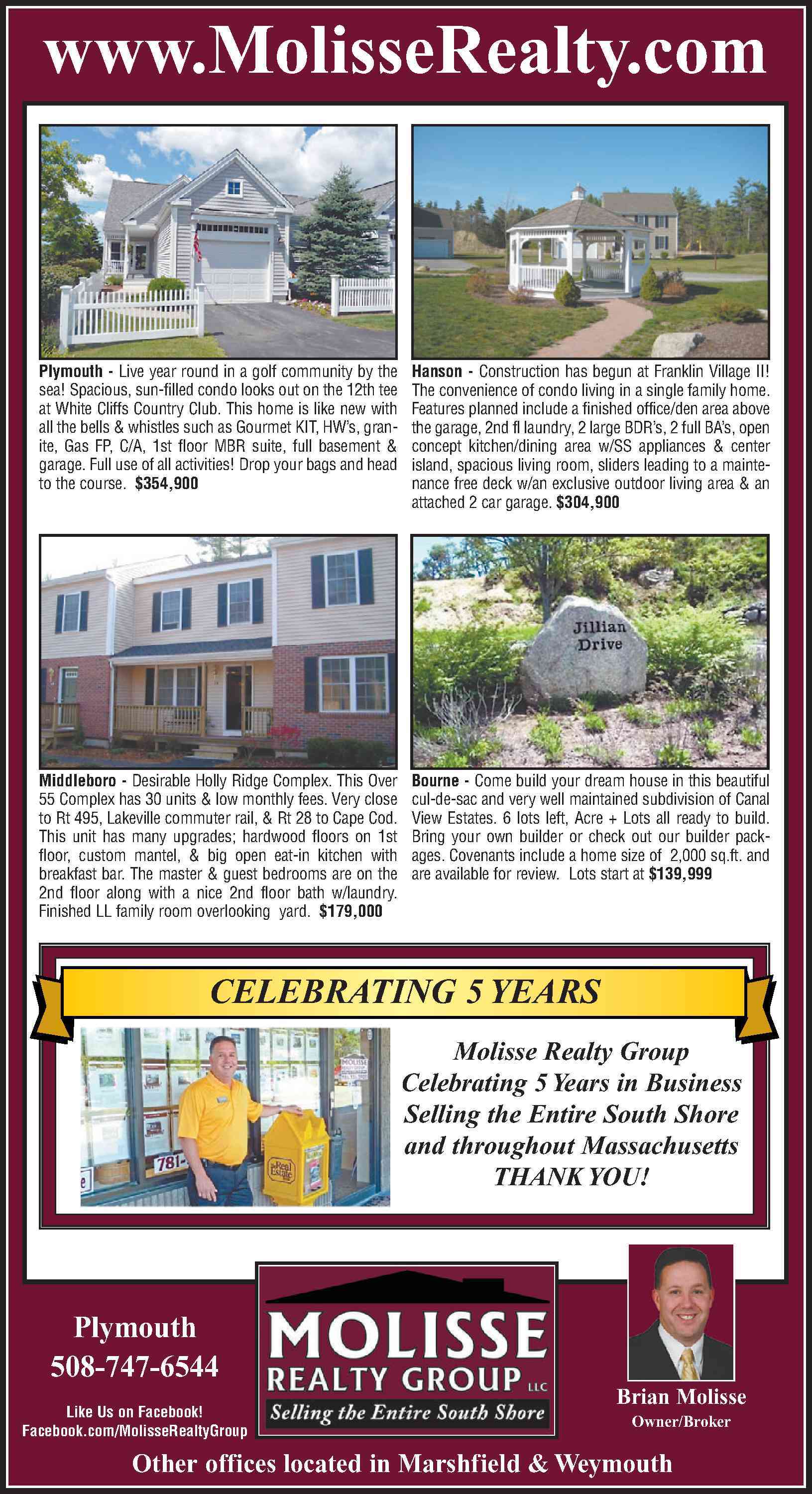 CELEBRATING 5 YEARS!
Molisse Realty Group officially marks it's 5th year anniversary today, May 6th, 2013.
5 years ago, Brian Molisse arrived home with a surprise for his family-he had opened a real estate company!
The real estate market wasn't the best. People said it would never work. Brian didn't listen, and since that first day, Molisse Realty Group has become the fastest growing real estate company on the South Shore.
The company now includes 60+ agents and staff, all of whom are proud to say they work for Brian Molisse and Molisse Realty Group.
MRG is celebrating 5 years in business and looking forward to the next 5!
WE ARE SO GRATEFUL AND THANKFUL...
to all of our Friends, Family, Customers, Clients, Agents and Business Associates for your continued support and business throughout the years.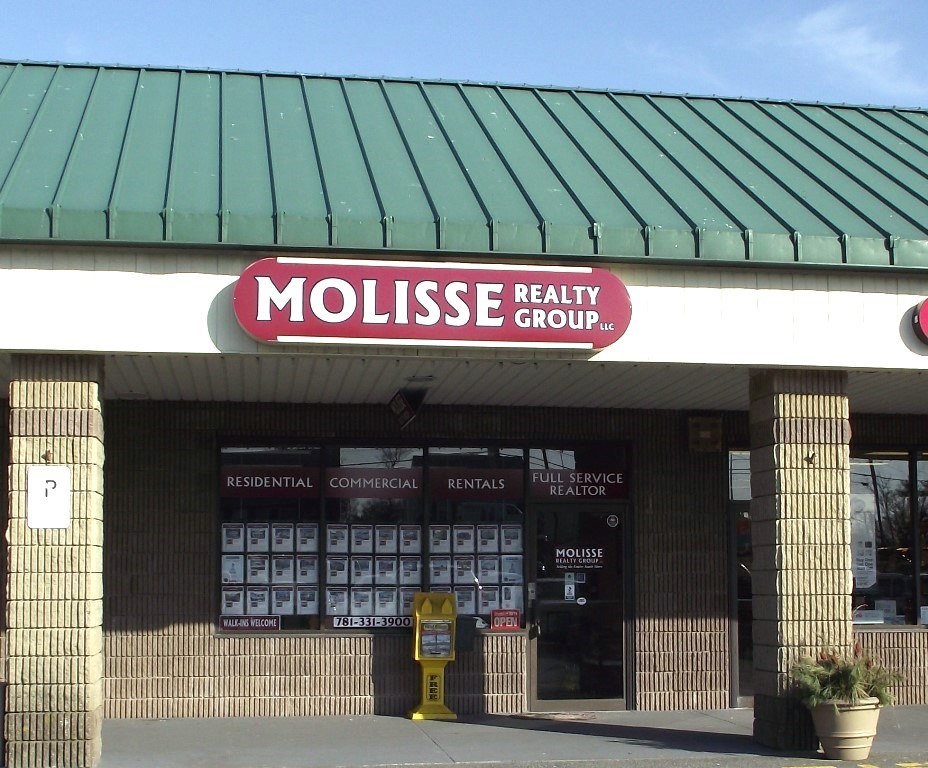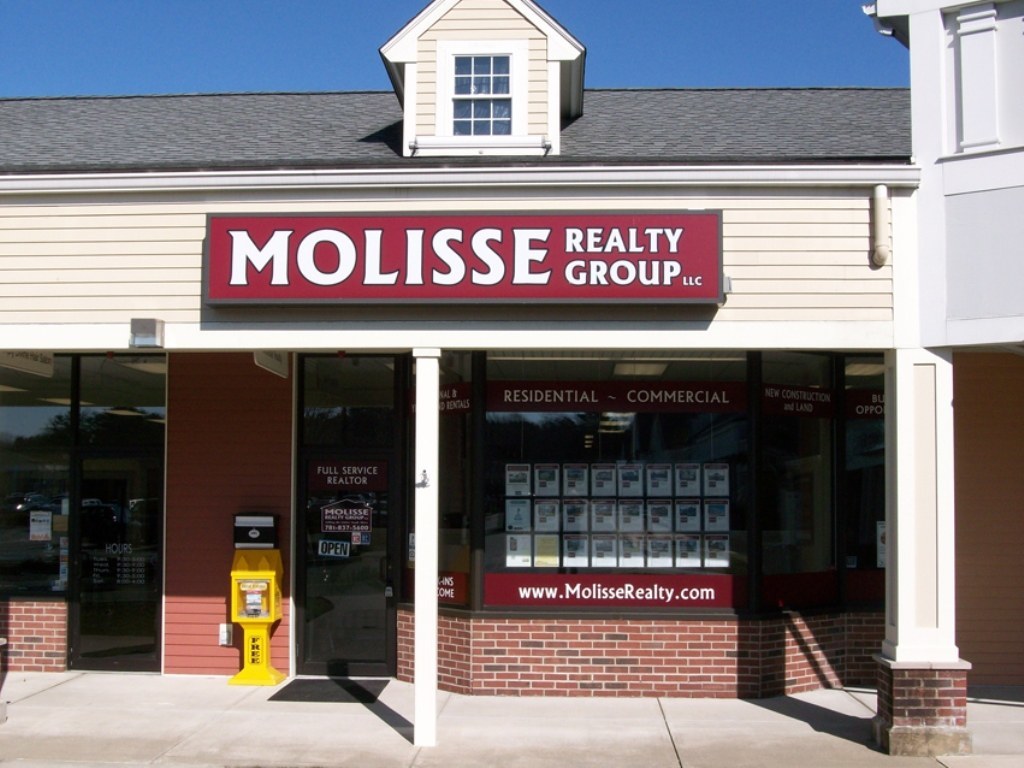 Fontaine Begins New Career At Molisse Realty Group
Brian Molisse, Owner/Broker of Molisse Realty Group welcomes Carolyn Fontaine as the most recent addition to the Molisse Realty Group family!
Presently situated in the Marshfield office, Fontaine brings with her a rewarding background in the Financial Services industry, and feels her past career in finances was a logical segway into real estate arena.
Believing in the basic tenets of honesty, integrity and hard work, Fontaine is ready to begin her new career and would very much like to assist you in the sale or purchase of a home.
Says Carolyn, "Please remember, you are not just hiring me, but the strength and stellar reputation of Molisse Realty Group. This means that you will have the expertise of over 60 realtors and staff on your team."
Carolyn may be reached at Molisse Realty Group in the Marshfield Office at 781-837-5600 or by email to cfontaine@molisserealty.net.
Molisse Realty Group has a second office located in Weymouth at 636 Middle Street in Shaws Plaza.
AD PREVIEW
FIRST WEEK OF MAY!
Your Local Community Newspapers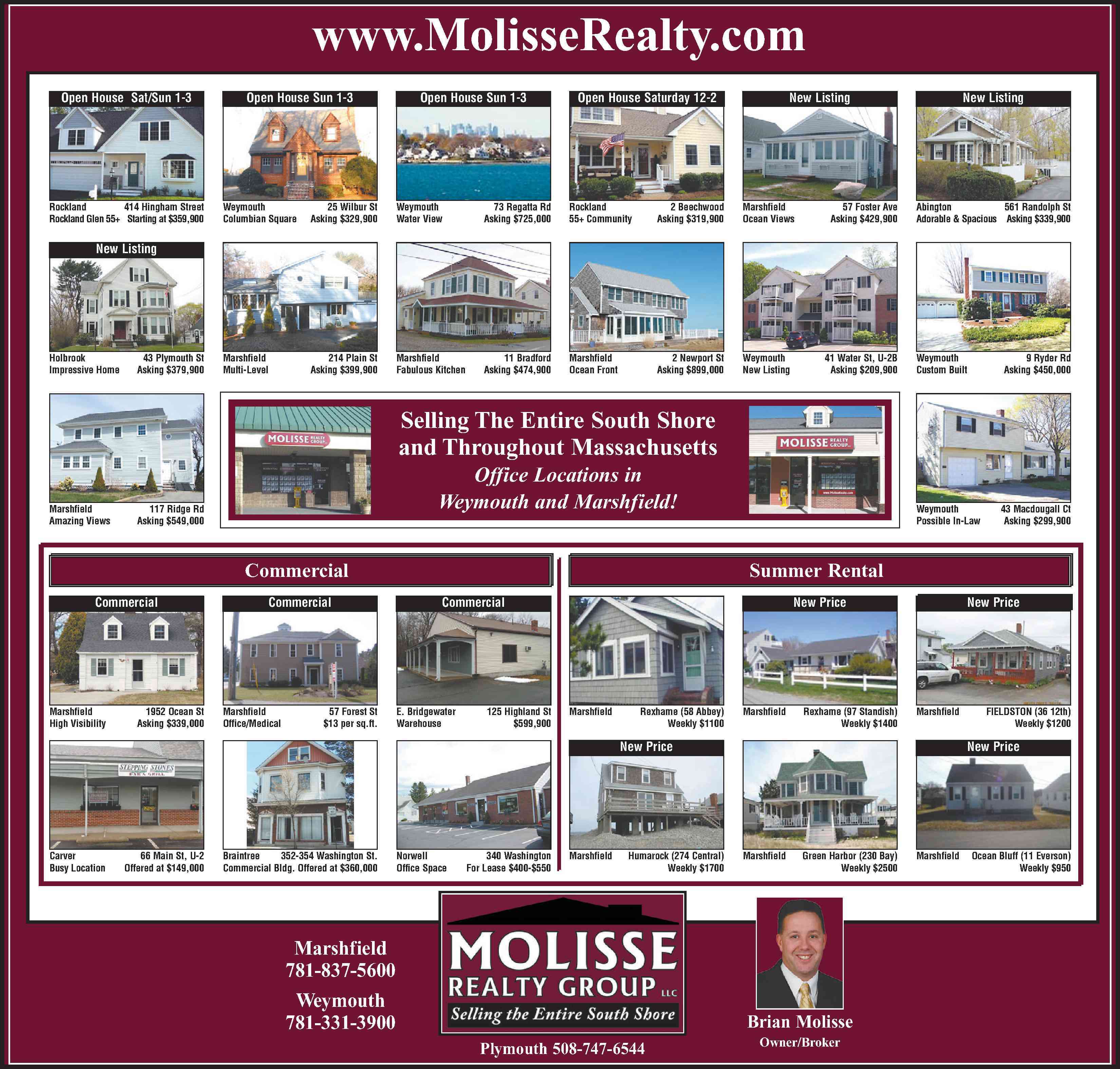 Cranberry Coast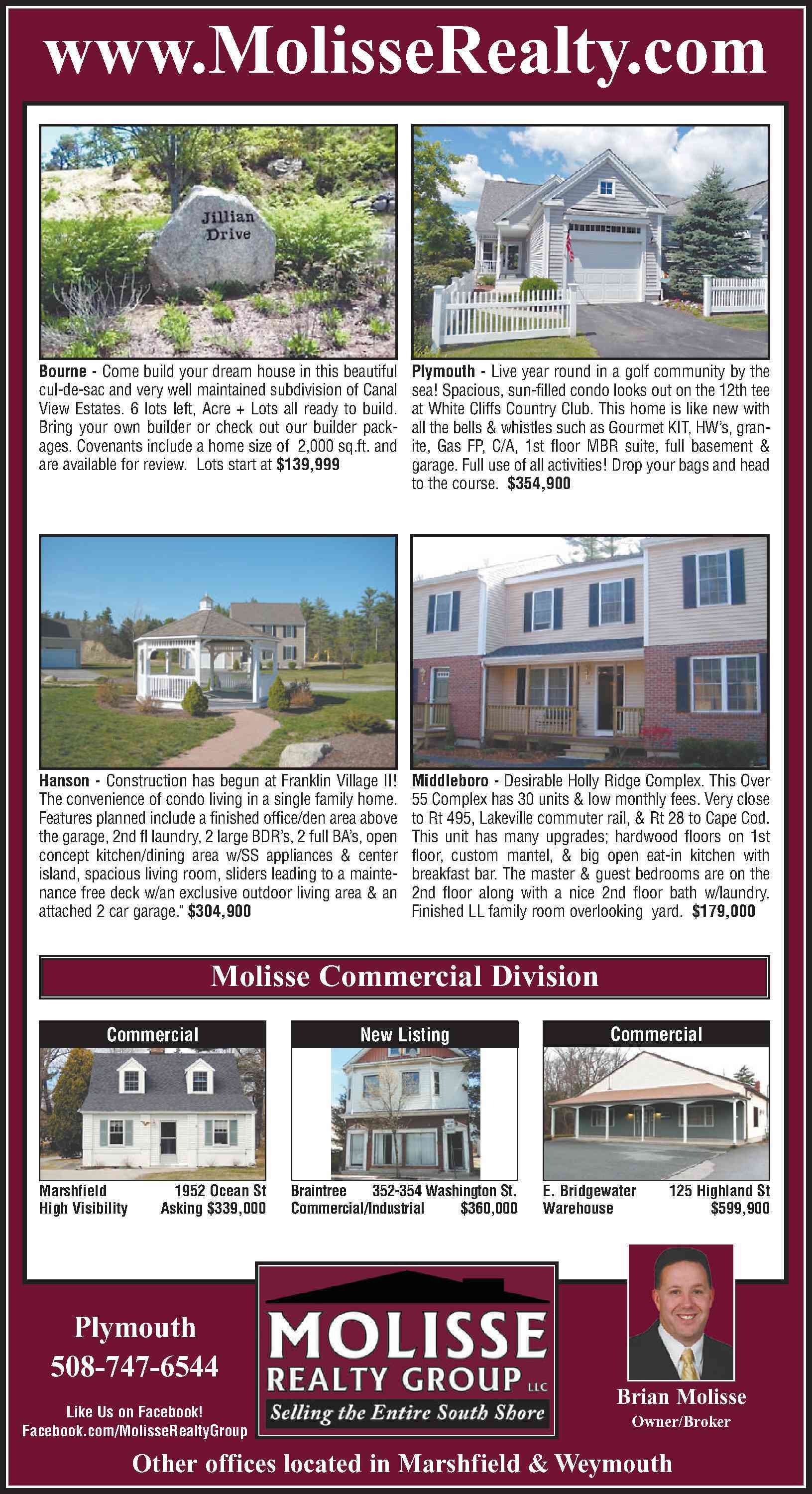 SELLING THE ENTIRE SOUTH SHORE AND THROUGHOUT MASSACHUSETTS!
Your Local Community Newspaper
Weekend of April 28th
Gina Michini is Welcomed to Molisse Realty Group by Owner/Broker Brian Molisse.
Gina Michini is a seasoned sales executive with over 12 years of experience providing advertising solutions to Fortune 500 corporations and small emerging companies. Having a strong passion for the real estate industry, Gina is transferring her skills towards a new career and has chosen to affiliate with Molisse Realty Group.
Her experience spans the advertising specialty business, advertising agency, promotional marketing and corporate advertising. She is a passionate dedicated individual who knows how to focus on her customer needs and help them achieve their objectives.
Gina currently resides in Pembroke, MA and will work out of the Molisse Realty Group office in Marshfield. She is excited to help you buy or sell your next home and can help with all your real estate needs.
Reach Gina directly at gmichini@MolisseRealty.net or cell/text to 201-230-9194.