« Back to Offices List
Molisse Realty Group, Weymouth
Office Info:

Web Site: www.MolisseRealty.com
Contact:

636 Middle Street
Weymouth, MA 02189
Phone: 781-331-3900
Fax: 781-331-3901
Office Manager:

781-331-3900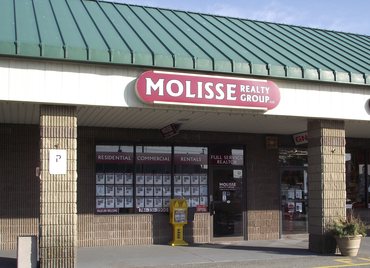 Molisse Realty Group, Weymouth Agents
Testimonials
" On behalf of my siblings and myself, I want to thank you for your sercvices. Your agressive and professional abilities as a Realtor resulted in a relatively quick sale of Mom's home. Your advice and efforts proved we made the right decision by asking you and Molisse Realty Group to sell the house. Thanks for your time, generosity, and expertise."
" "
Phil S.
---
" Just a note of appreciation for the patience and professionalism shown to me by your agent Ann-Marie Baker. Ann-Marie went "above and beyond" all expectations and she is an asset to Molisse Realty Group. The positive experience I had with Ann-Marie will lead me to recommend your company to anyone I know that needs a caring and "go the extra mile" company."
" "
" "
Paula C.
---
" Brian, I wanted to write you about the recent experience I had selling my mother's house through your agent, Cindy Dunn. Cindy was always responsive, reasonable, rational, very creative in problem solving and a pleasure to deal with. I am extremely pleased with how she handled my transaction and would recommend her and Molisse Realty Group to anyone."
" "
" "
Jane M.
---
"To Whom It May Concern,
I highly recommend Cindy Dunn for any real estate needs. She provided exceptional customer service throughout countless showings and her knowledge of all the intricacies involved in buying a home was invaluable. I truly cannot say enough good things about Cindy and I plan to use her for all of my future real estate needs.
Maura G."
---
"Dear Brian and Molisse Realty Group,
Thank you for the recent use of your Molisse Realty Group Moving Truck for the collection in Weymouth benefitting Cradles to Crayons. It is greatly appreciated!! All the best,
Melanie and the C2C Staff."
---
"Brian,
Thank you for all your time and energy that you spent on finding us our home. It hasn't even been a week and we already feel at ease here. Ben and I were sitting in the kitchen thinking about the time we were standing there talking about looking in Weymouth! Now we're eating dinner in that very kitchen!You've been so wonderful and have gone above and beyond for us-we're so grateful! Can't thank you enough!
Ashley & Bernie"
---
"Janet worked with us every step of the way to find a house that we absolutely love. Thanks Janet!
Neal & Jen
"
---
"Dear Janet,
Thank you for helping us find our dream home! We couldn't be happier and we couldn't have done it without you! Forever grateful, Joanna & Eric"
---
"Jim-I am so happy we were able to get this closing to happen before the end of the year for both the seller and buyer. I really enjoyed working with you and look forward to doing further business together.
Antoine Doan, Vantage Point Bank"
---
"Arlene, Your time and generosity will not be forgotten. During my time of loss you not only went the extra mile but aided in my resolve to find a new place to live. Always, Paul Wight"
---
"Right from the initial market evaluation we knew we were in good hands with Cindy. She is professional, a go-getter, and she knows the market. We felt informed and consulted with throughout the process. Cindy helped us to sell our house quickly for the best possible price."
Dave & Deb T.
Belmont, MA
---
"
Cindy is a pleasure to work with. She is very professional, knowledgeable and never makes you feel like a nuisance when you call . Even when an unexpected problem arises, she doesn't give up, she finds a solution and gets the job done. She does a great job, I highly recommend her!
"
Sarah C.
Middleboro MA
---
"It is a pleasure having Ms. Dunn representing me in selling my home. She is not only extremely professional, knowledgeable about sales and the area, yet most importantly very easy to work with. She is intuitive and thus her communication skills are outstanding. She knows exactly when to contact me and her suggestions have been spot on. I truly believe I am in good hands."
Cindy G.
Weymouth, MA
---
"Cindy is the best real estate person I have ever had. She is thoroughly professional, dedicated, and hard-working. She is totally familiar with the South Shore area, and gets results because she knows what works. She is personable, upbeat, and real. I recommend her highly."
Elaine V.
Weymouth, MA
---
"I recommend Cindy Dunn for all your real estate needs. She is knowledgeable, customer service oriented and ethical. I worked with Cindy to purchase a home as well as to rent out a home. She was always professional and reliable."
M. Graham
Weymouth & Rockland, MA
---
"Cindy did a nice job finding potential buyers and sticking with the property through several "close calls" never letting us get discouraged about the prospects of a sale at an appropriate price. Very professional and very effective."
E. Grammer
Weymouth, MA
---
"There are many words to describe our realtor, Nancy Lilly. She is kind, experienced, knowledgeable and most of patient. We looked at a significant amount of houses in the Braintree and Weymouth area until we found exactly what we were looking for. Even when we were ready to put an offer in on that house she was still willing to show us additional houses she had lined up to make sure we were 100% sure. Everything was perfect, no complaints! - Jeff & Christine Bartoloni, picky first time home buyers"
---
"Everyone says that selling your house is stressful and scary. Well, that wasn't the case with Nancy Lilly. Her knowledge of the real estate market and preparation ensured that my mother's house was marketed perfectly. I was 100% confident with her plan. My mother's house was sold in less than one day. She turned a stressful event and made it a great learning experience. I look forward to working with Nancy for a very long time. - Jeff Bartoloni, first time seller
"
---
"Dear Brian Molisse,
We would like to thank you and your company for providing us professional real estate services and an overall enjoyable experience regarding the purchase of our new home. This was our third home purchase, since 2004, and found this experience to be incomparable to any that we have had in the past, in a positive way. Jean Patriquin was our agent and I can tell you we could not have found a better fit for us. She is not only extremely knowledgeable, honest, and hardworking but unimaginably loyal. We have developed a strong friendship with Jean over the course of the last few months and feel very lucky that we found her…or actually, she found us.
Thank you for everything,
Mike and Krissy S.
"
---
"Trish, Mark and I want to thank you for everything you have done for us. We know you worked harder than we knew to get us into our new home. Thank you so much for all your hard work! You went above and beyond.
Krista and Mark"
---
"Dear Janet,
Thank you for all your efforts and the "Results"! I am happy with everything and would definitely recommend you and Molisse Realty Group to anyone I know. Thank you! Marianne"
---
"Cindy is fabulous and truly cares about her clients. This was my first time buying a home and she walked us through the whole process. She was always available for questions and advice. Her sense of humor and fun outlook made the stressful process of home buying very enjoyable. I strongly recommend Cindy Dunn!"
Ellie Willard
255 Rockland St. Abington MA
---
"Cindy was extremely professional and got our home sold very quickly. As this was my parents house for 47 years, she was kind and sensitive to their needs and concerns. Her knowledge of the market, the neighborhood and the time of year were all keys to our getting the house sold and at a price my parents were very pleased with.
We happily and enthusiastically recommend Cindy Dunn for your real estate needs, whether buying, selling or both. She is the best real estate professional with whom I have ever worked. Thank you!
"
Jim Donaher
40 Lyme Street, Weymouth
---
"Brian,
We would like to recognize two special people in your office. We recently sold our house in Weymouth and bought a condo at Rockland Glen. We had the opportunity to use your agency twice with Cindy Dunn, our seller and Denise Rannou who we used to buy in Rockland Glen. These two professionals exceeded all our expectations and met our every need during this hectic time. We were completely satisfied at how well they coordinated the purchase and sale of two properties at the same time! Of course there was a ton of things that needed to be done jointly and we are still amazed at how smoothly both transactions went.
Please pass our best to these two terrific agents!
Thank you,
Kevin and Kathy Cahill"
---
" It has really been such a pleasure having you assist us through this whole process of "Selling" and "Buying"! It was a bumpy road at times and your wisdom and humor played a big part in getting us through it all! You really are very good at what you do and we wish you continued success! Molisse is lucky to have you on their team!"
" "
Shirley Buccini
100 Forest Drive Bridgewater
---
" Hi Brian,"
" I am writing to let you know how pleased I was working with Trish Pierce. She was very thorough, enthusiastic, responsive, and most helpful through the entire process. I would recommend her to anyone!"
" Sincerely,"
" Noel C."
---
" Alicja,"
" You are my Angel! I am so grateful for you coming into my life when you did!"
---
" Thank you so much for all your help. I really like my new apartment. "
Terri T.
Randolph, MA
---
" Mike- I saw my neighbor last night. Her daughter bought a house that you had listed and then sold to her and her boyfriend. Well, let me tell you she was beaming with joy! She told me you were the best! She was praising you up and down. Apparently you talked to the sellers and she ended up getting the house all because of you! Just wanted to let you know she would tell people in the real estate market all about Molisse Realty Group and just how wonderful you are!!!! Nice job Michael!"
Polly
---
" Jill was a pleasure to work with throughout the whole process. Her passion for helping first time home buyers like myself was a godsend. Having a low budget and a slightly blemished credit history made my buying power quite limited, but Jill stayed positive and walked through any listing that we found in my range. She helped me through an extremely stressful and difficult short sale, which eventually failed due solely to the seller. Even with that Jill remained motivated and determined to help me find my home, which we did. She helped me through every step, answered all questions and then some. I would never use another Realtor."
J. Grasso
---
" Jill comes from a long line of Real Estate professionals in her family. She has been a constant advocate for the consumer and will stand by your side every step of the way to get the best results for you. I wouldn't think twice about having her represent me in my next real estate transaction"
A. Emanuel
---
" My experience with Jill Whittemore was exceptional. She was extremely knowledgeable regarding the local inventory of properties and was able to tailor our search process to properties which suited my preferences. Eventually and with a lot of patience Jill found me the perfect property which met all of my needs. I have and would recommend Jill Whittemore to anyone looking for property in the South Shore area."
B. Richards
---
We worked with Jill to sell our home. My husband & I had a conception of what we believed our house was worth, which is a misconception most of us make as sellers. I have to be honest Jill pulled no punches as to what we needed to price our house for in order to sell!!! But we knew best. She was extremely patient with us, gave us all the comps in the area and gave her expertise on pricing without being over bearing. But, again we knew best! We have sold homes in the past and have dealt with many Realtors, but none have been as patient and understanding as Jill. I think the most important part of the relationship we had with her was she didn't make you feel like you were just a commission to her. She truly puts her heart and soul into being your Realtor as well as a confidant and honestly understands the journey you undertake when putting your home on the market. If we have any regrets with our experience with Jill it was that we did not listen to her from the beginning and follow her expert advice and there is no doubt in our minds that our house would have sold a lot quicker and no doubt for a larger profit.
Joan Dragone
---
I have worked with Jill and several other of her family members for many years. I found her to be professional, conscientious, and most importantly sensitive to the personal need of both the buyers and the sellers that she represents.
" "
John Abdelahad
---
Jill is a great example of a knowledgeable, professional real estate broker. She was extremely quick to get me answers, detailed with property research and conveyed a wealth of valuable information. In addition to her real estate skills, Jill is very personable and accommodating to work with.
" "
J. Lewis
---
"Dear Brian Molisse, I am writing to express my extreme satisfaction and gratitude in finding Jill Whittemore when it came time to sell my family home in June. A family member put me in contact with Jill when I was a very motivated seller. She was so knowledgeable, professional and accommodating. It was an older home and the inspection uncovered numerous improvements that needed to be done before selling. She put me in contact with reliable, affordable professionals who did the needed work in a timely fashion, moving the process along to meet our deadline. I am a fulltime nurse with variable hours and Jill frequently made herself available to be at the house for the work when I could not be and brought me the necessary documents to sign right up to the hospital, making it as easy on me as possible. To say she put me at ease through the entire experience is quite an understatement. Ultimately she found a lovely young couple who fell in love with the house and brokered a deal that far exceeded our expectations. I have recommended Jill to everyone I know who is buying or selling a home and will happily continue to do so. She is without a doubt a true asset to your company!"
Cynthia Grasso
---
"Jean, From the bottom of my heart I wanted to thank you for helping me find my house and helping me get through a rough spot in my life. I couldn't of done it with out you."
Liz
---
Molisse Realty Group, Weymouth Listings
Disclaimer:
The property listing data and information set forth herein were provided to MLS Property Information Network, Inc. from third party sources, including sellers, lessors and public records, and were compiled by MLS Property Information Network, Inc. The property listing data and information are for the personal, non-commercial use of consumers having a good faith interest in purchasing or leasing listed properties of the type displayed to them and may not be used for any purpose other than to identify prospective properties which such consumers may have a good faith interest in purchasing or leasing. MLS Property Information Network, Inc. and its subscribers disclaim any and all representations and warranties as to the accuracy of the property listing data and information set forth herein.
---